There are many types of cranes. From the degree of automation of cranes, they are divided into three categories: general non-automated ordinary cranes, semi-automatic cranes and
automated cranes
.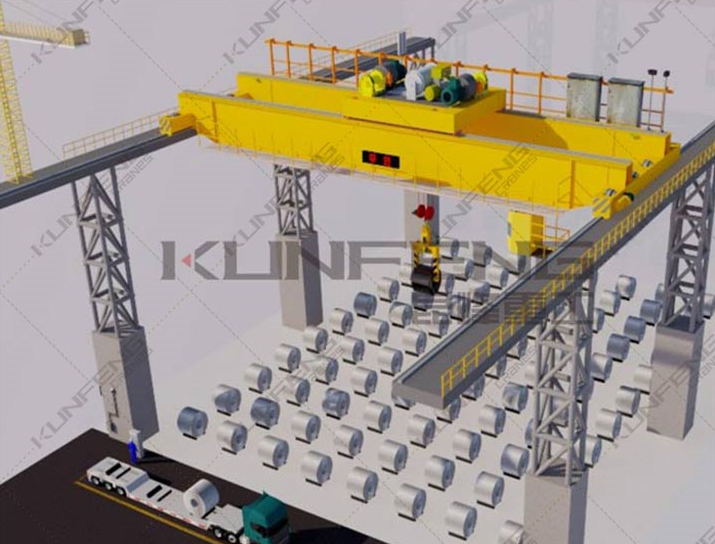 Ordinary driving: Generally, ordinary driving is equipped with a driver's cab. The operation of the crane is issued by the ground commander using the walkie-talkie or the mouth and gestures to the driver to issue the dispatch order, and the driver then operates the equipment (linkage platform) to work. But objectively speaking, when the stacks are dense and the shapes of the stacks are basically the same, it is difficult to accurately judge the position from the more than ten-meter-high cab with manual and stack marks, especially if there is insulation. Pit smoke interference, slow location judgment, and limited lifting efficiency, of course, if a lifting error occurs, the situation is even worse. Moreover, the presence of ground commanders is always a safety hazard. But at present, most domestic enterprises do use this type of driving vehicles;
Semi-automatic driving: a driving vehicle equipped with a driving position tracking system is summarized in the category of automated driving. It is a semi-automatic driving. Its characteristic is that there are people on the road and no one on the ground. The driver only needs to control the driving according to the position instructions on the cab screen. Complete all lifting and ERP information interaction actions, the efficiency is greatly improved, and there is no safety hazard at all, and it is not interfered by environmental smoke. An experienced driver can also optimize the driving path. The system is a standard mechatronics product abroad. Major foreign large-scale steel companies use cranes with a driving position tracking system in steel coil warehouses, slab warehouses, finished product warehouses and other occasions.
Fully automatic driving: From a technical point of view, as long as a few hardware devices are added to the CLTS driving and some related control software is changed, it can become a fully automatic driverless driving. In some hoisting occasions where the environment is relatively harsh and the operation path is relatively single, foreign companies are gradually emerging, which is characterized by unmanned driving, automatic lifting and unloading, and the operation of the truck is automatically controlled by PLC, and the path is relatively optimal. Not only is there no one on the ground, but the people in the vehicle are also saved. Of course, the necessary cameras need to be set up to monitor the entire warehouse, and the operation of the vehicle needs to be monitored remotely. But even for well-known foreign steel companies, fully automatic driving has not yet entered the stage of widespread use.
The technical scheme of the crane position tracking system is designed for the management requirements of the crane. According to the functional requirements of the multi-function crane for loading, unloading and unloading, it comprehensively considers the three-dimensional positioning of the crane, the intelligent navigation of the crane, and the automatic data collection. And computer wireless communication, forming a full range of intelligent electronic magnetic ruler positioning system for overhead cranes.