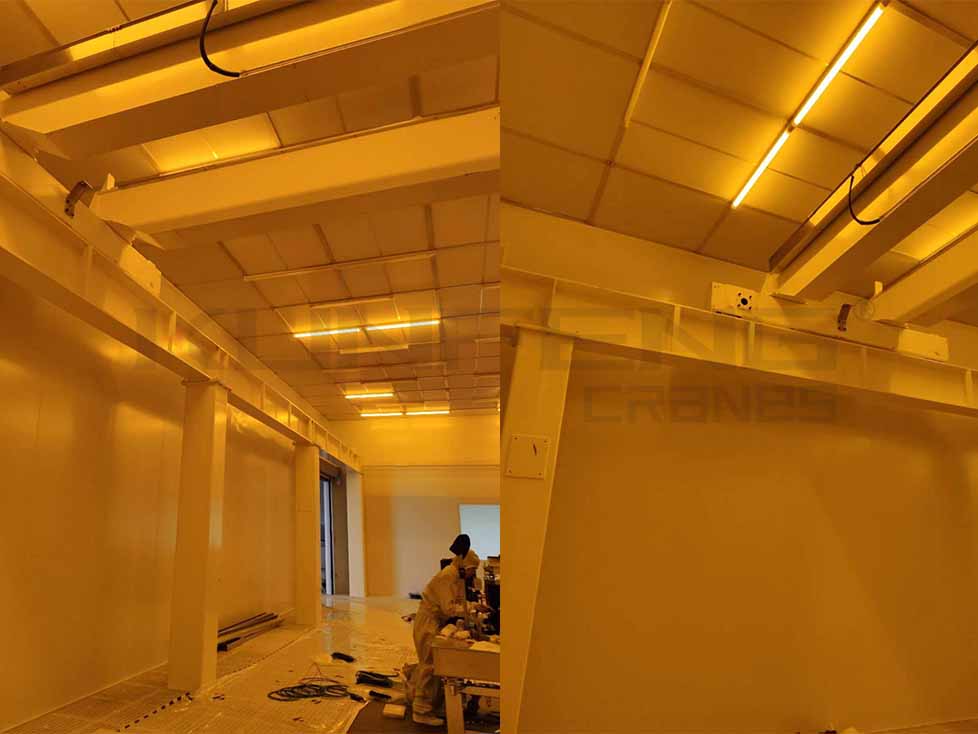 Clean room crane, clean hoist crane, clean crown block and other lifting equipment used in non-standard customized clean space.
Kunfeng heavy industry clean hoist crown block is a kind of clean and dustproof crane equipment.
Electric clean room hoist crane
is a kind of crane suitable for dust-free environment. Electric hoist in clean room is used in bioengineering, medical equipment, food, microelectronics, photovoltaic, injection molding, lithium battery, semiconductor and other industries. The use of clean hoist protects some production workshops with high requirements, Some dust-free industries have great requirements for cleanliness in workshop production, and clean driving meets the requirements of dust-free in workshops. The lifting equipment in the clean area includes clean crane, clean cantilever crane, clean turnover machine, clean KBK crane, clean intelligent crane, clean mobile gantry crane and other different forms of lifting equipment!
Electric clean room hoist crane
refers to the lifting equipment that can complete mechanical operation in a relatively closed workshop through air supply, maintain a certain air supply volume and maintain a certain number of air circulation times per hour, so as to ensure the cleanliness and temperature and humidity of the workshop. The internal temperature, humidity and dust quantity are strictly limited.
In order to ensure the safety and reliability of the lifting mechanism of the crane, a brake is installed on the high-speed shaft of the reducer. A lifting stopper is installed on the bearing seat at one end of the supporting drum, which is a safety device when the spreader rises to the limit position. The improved design of the crane end beam reduces the vertical stiffness and increases the horizontal stiffness, which can overcome the three wheel touchdown of the crane cart wheel and greatly improve the service life of the wheel. The end beam structure for wheel installation integrates international advanced technology and adopts integral boring structure, with higher installation accuracy.
Electric clean room hoist crane