Electric belt hoist is a kind of electric hoist suitable for clean room production environment. Fiber rope is used as lifting tool, which will not produce dust, friction, rust and other pollution. It is mostly used in dust-free production workshops, powder manufacturing, food processing, etc. Refined and highly airtight production conditions.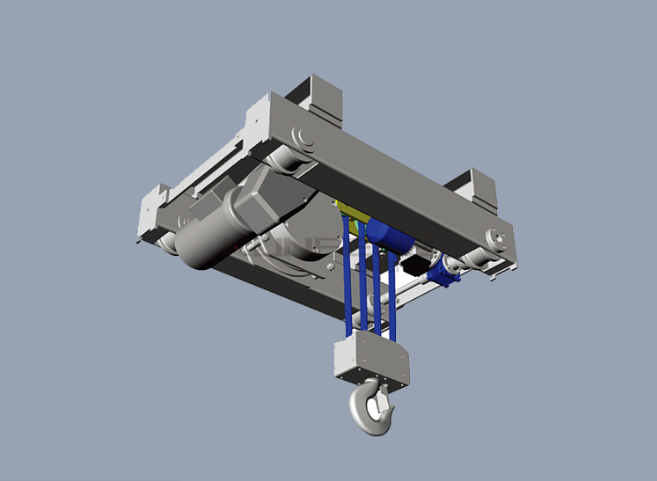 The main components of the electric belt hoist include steel structure main beam, running device, lifting device, hook device, fiber rope and electric control device, among which the running device, lifting device, hook device and electric control device are respectively equipped with In the four closed shells, there is a layer of inorganic anti-corrosion coating embedded with anti-static powder on the outer surface of the main beam of the steel structure and the closed shell to prevent electrostatic adsorption of dirt and corrosion.
The main reasons why electric belt hoists are suitable for clean rooms:
● No splash: Fiber rope is used for transmission, which will not produce splash and debris, and avoid pollution to the clean room environment.
● Low noise: The motor and reducer are designed with low noise, so that the noise generated during operation is very small, which meets the noise requirements of the clean room.
● Easy to operate: It adopts electric control, which is easy and convenient to operate. It can realize unmanned operation through remote control, avoiding the risk of personnel entering the clean room.
● Efficient and fast: With the characteristics of high-speed operation and fast lifting, it can quickly complete the handling task and improve production efficiency.
● Safe and stable: It has good stability and safety, which can ensure the safety of heavy object handling.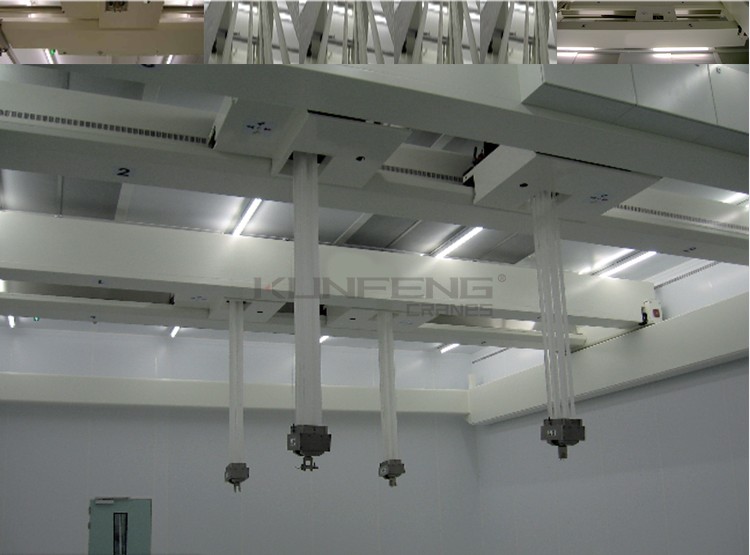 Advantages of electric belt hoist in clean room:
● Using fiber rope as a lifting tool, compared with chain or wire rope, the transmission is stable and the noise is low, which effectively reduces the vibration and noise during operation.
● Stainless steel or chrome-plated parts, as well as nylon or rubber-coated parts, prevent rust, absorb dust, and generate friction dust, prolonging the service life and maintenance cycle of the equipment.
● It has the characteristics of compact structure, precise operation, and reliable performance, which can meet the needs of space utilization and cleaning operations in clean rooms. At the same time, it has safety protection devices and intelligent control systems to improve production efficiency and safety.
● The operation is very simple, just press the button to complete the lifting and landing operation, the operator does not need to operate vigorously, which reduces the work intensity.
● It has the characteristics of high efficiency and energy saving, and adopts advanced motor and reducer, which can quickly and efficiently complete the handling task, and can also effectively save energy.
● The use of advanced control system and safety equipment can ensure the safety and reliability of the handling process and avoid accidents during the handling process.
KUNFENG Heavy Industry is a Chinese manufacturer of electric hoists. The quality and safety of our products are guaranteed. We have a large number of cooperative customers in domestic and foreign markets. If you need to upgrade equipment, please contact us for consultation!