Mobile gantry crane, also called walking gantry crane, trackless gantry crane, is a portable type of gantries. KUNFENG CRANES builds a complete range of gantry cranes including single girder, double girder, full gantry, semi-gantry for indoor and outdoor service. Capacities, spans and heights are virtually unlimited.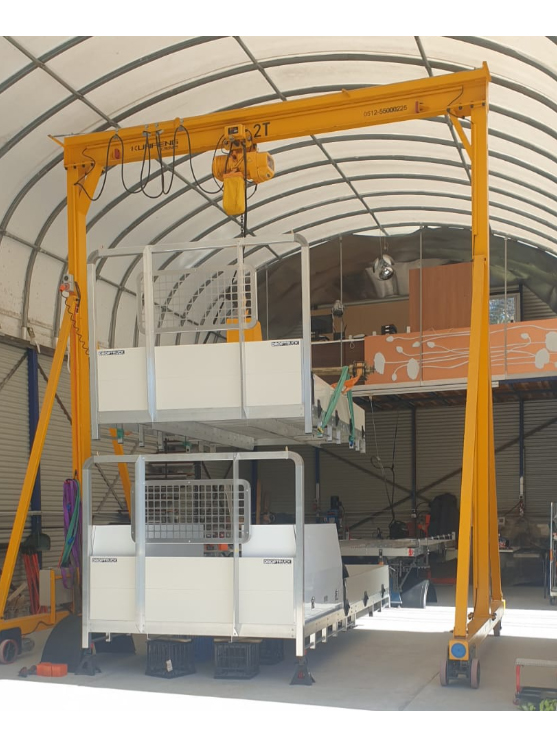 With capacity from 1 to 5 ton and span from 2 to 12 meters, the mobile gantry crane has helped many customers lifting work around the world. For example, 3 ton trackless walking gantry crane for Australia, 1 ton aluminum gantry crane for Philippine, 2 ton stainless steel mobile gantry crane for cleanroom lifting in Japan.
FEATURES:
Mobility: Mobile gantry crane is equipped with a self-propelled mechanism that allows it to move freely on a flat surface, such as concrete or asphalt, without the requirement for fixed tracks. This feature provides flexibility in terms of positioning and relocating gantry crane as needed.
Adjustable height and span: The height and span of the portable gantry crane can often be adjusted to accommodate different lifting tasks and workspace constraints. Meanwhile, trackless gantry crane can be customized to specific requirements, when in cleanroom, stainless steel design is a better choice, for it inhibits corrosion and prevents flaking. This adaptability allows the crane to be customized to specific requirements, ensuring efficient and safe lifting operations.
Versatility: Mobile trackless walking gantry cranes can be used for a wide range of lifting tasks, such as loading and unloading cargo, moving heavy equipment, erecting structures, and transporting materials within a facility. Their versatility makes them suitable for diverse industries and applications.
KUNFENG Cranes has a rich experience in gantry crane, especially in the portable gantry crane. When considering the use of such equipment, it's recommended to consult with the manufacturer or a qualified expert to determine the most suitable crane for your specific needs.
Find out more by contacting KUNFENG CRANES, email us at sale@kfqizhongji.com