Yale electric chain hoist is a well-known brand of lifting hoist in Germany, a kind of equipment used for lifting and hanging heavy objects. It uses the ring chain as the lifting chain, drives the lifting mechanism through the motor, and realizes the vertical lifting and suspension of the heavy object.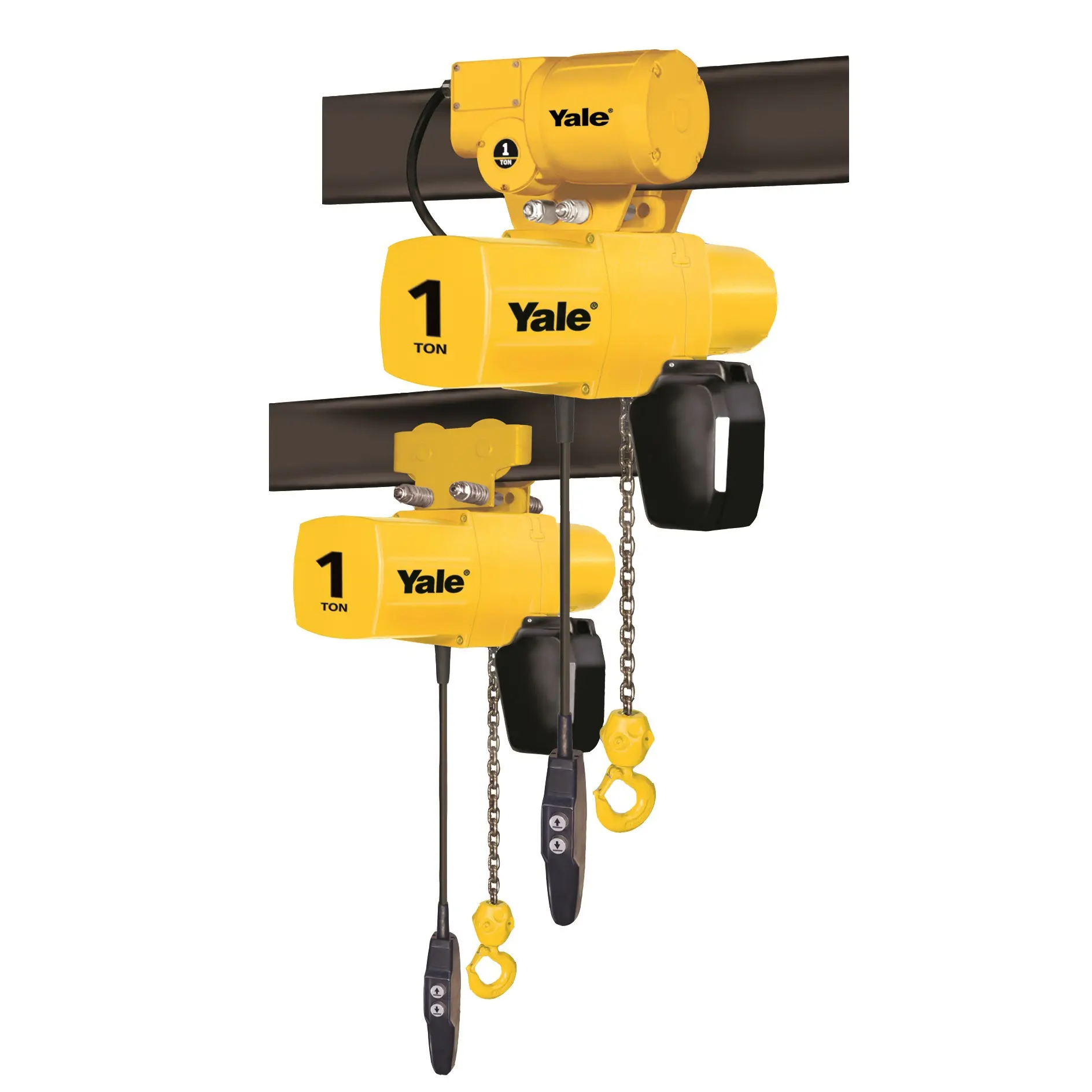 Features of Yale electric chain hoist:
● The ring chain is used as the lifting chain, which has high strength and high wear resistance, and can bear large loads. The ring chain structure is also flexible and can be adapted to different working scenarios and lifting needs.
● The lifting mechanism is driven by a motor to realize vertical lifting of heavy objects. The electric drive has the advantages of fast lifting speed and easy operation, which can improve work efficiency.
● Equipped with multiple safety protection measures, such as limit switches, overload protection devices, etc., to ensure the safety of lifting operations. At the same time, it also has a design to prevent the chain from breaking and slipping, ensuring the stability and reliability of the lifting process.
● It can be flexibly configured according to different needs, and can be equipped with different lifting chains and accessories to meet different lifting scenarios and heavy object handling needs. It can also be used in conjunction with hoisting machinery, gantry cranes and other equipment to achieve more complex lifting operations.
Advantages of Yale electric chain hoists:
● Made of steel with good wear resistance and high hardness, it can ensure smooth and accurate lifting action when used in conjunction with the standard lifting chain.
● The oil-immersed lubricated planetary gear mechanism makes the work particularly stable.
● The standard configuration of the lifting chain has a hard shell and a plated coating layer, and the perfect cooperation with the hoist body can ensure smooth and accurate operation.
● The upper and lower hooks are made of anti-aging, high-toughness alloy steel, which will first deform without breaking suddenly in case of overloading, ensuring the safety of users.
Product Specifications
Model
Rated load(KG)
Number of lower hook chains
Standard lifting height(m)

Chain specifications

d*p(mm)

Lifting speed

m/min

Motor power

kw

Net weight

kg

Working power
Working level
Shopstar1-4
125
1
3
4*12.2
4
0.10
11.5
230V/1PH/50HZ
1AM
Shopstar1-10
125
1
3
4*12.2
10
0.25
11.5
400V/3PH/50HZ
1AM
Shopstar2-6
250
1
3
4*12.2
6
0.28
11.5
400V/3PH/50HZ
1AM
Shopstar5-3
500
2
3
4*12.2
3
0.28
12.5
400V/3PH/50HZ
1AM