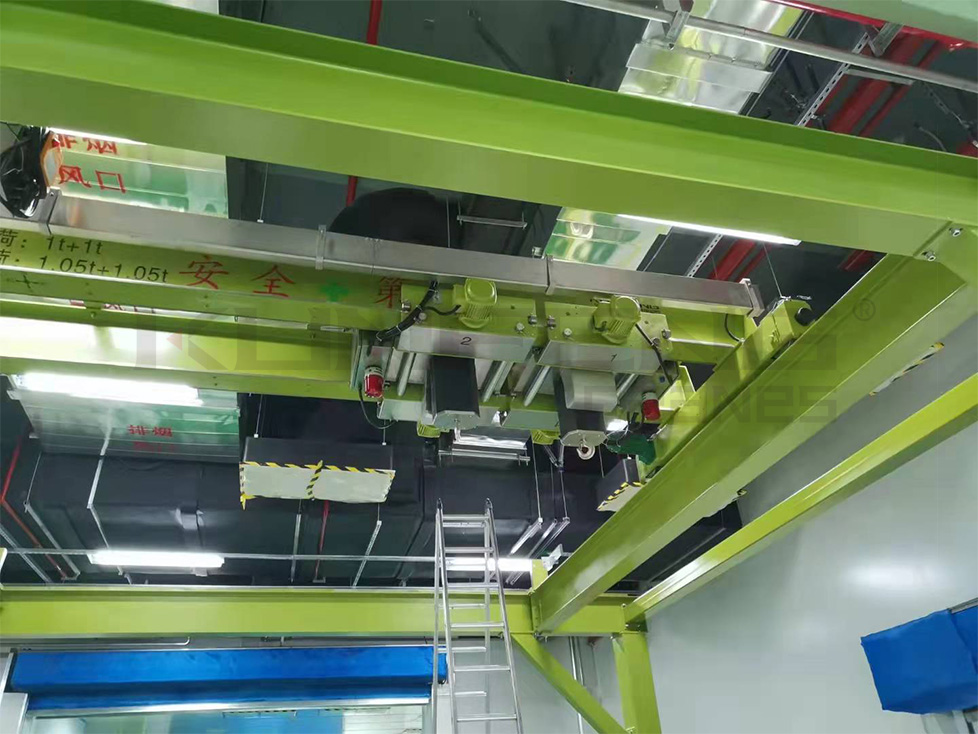 A class 1000 cleanroom crane is specifically designed and constructed to meet the cleanliness requirements of a Class 1000 cleanroom work environment. These cleanrooms have a controlled environment with strict limits on the number of particles per cubic foot of air.
By incorporating a cleanroom overhead crane, the challenges associated with material handling within the Class 1000 cleanroom area are effectively resolved. The crane provides a reliable and efficient solution for lifting and transporting materials, components, or equipment without compromising the cleanliness standards of the cleanrooom environment.
1. Convenient for production
The implementation of a cleanroom overhead crane brings significant convenience to industrial production enterprises operating within cleanroom environments. It enables higher production efficiency by streaming material handling processes, reducing downtime, and increasing overall productivity. The crane's precision and reliability contribute to the smooth workflow and optimized operations within the cleanroom.
2. Cost Saving
The utilization of a cleanroom overhead crane results in cost savings for enterprises. It eliminates the need for manual handling or specialized cleanroom equipment, reducing labor costs and minimizing the risk of contamination of product damage. The efficient and controlled movement of materials with the crane ensures the integrity and quality of products, ultimately reducing waste and enhancing cost-effectiveness.
3. Reduce labor intensity
The cleanroom overhead crane reduces labor intensity by automating lifting and transporting tasks. This promotes a safer and healthier work environment for employees, as they are relieved from physically demanding tasks. The crane's ergonomic design and ease of use contribute to a more comfortable and efficient working environment.
Overall, the introduction of a cleanroom overhead crane in a Class 1000 cleanroom environment plays a crucial role in promoting the economic development of enterprises. It enhances production efficiency, reduces operational costs, improves workplace safety, and ensure the adherence to strict strict cleanliness standards. By providing a convenient and reliable solution for material handling, the cleanroom overhead crane becomes an indispensable asset for enterprises operating in Class 1000 cleanroom environments.
As an ISO 9001:2015 certified manufacturer, KUNFENG Cranes understand how essential a reliable manufacturer is for original equipment manufacturer (OEM) parts and components. Contact us to learn more today!