Clean Room jib Crane
for Electronics Production Industry
Kunfeng Heavy Industry is a leading supplier of jib cranes, including both free standing jib crane (floor mount) and wall mounted jib crane styles.
We specialize in supplying stainless steel jib crane products, which are often found in the pharmaceutical cleanroom and food processing industries. We can quickly provide these cranes to you because these items are part of our standard offering.
Product Description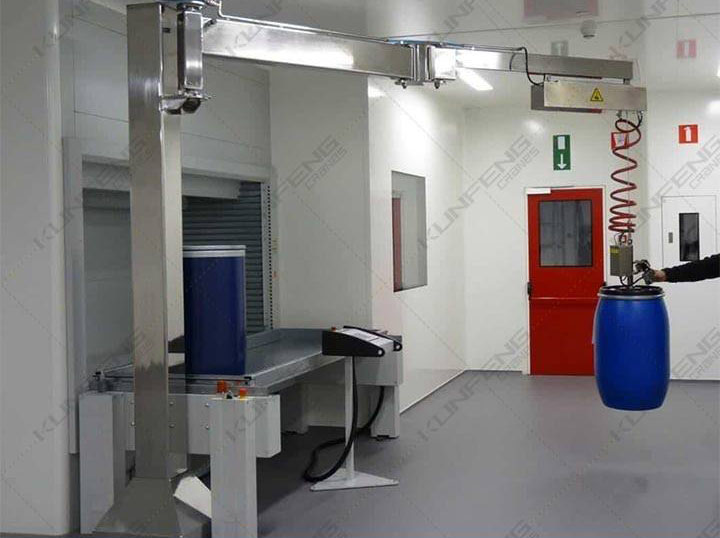 The Introduction of Jib Crane:
The working intensity of the Jib Crane is light. The crane is composed of a column, a revolving arm rotary drive and an electric hoist. The lower end of the column is fixed on the concrete foundation by means of anchor bolts. The cycloid reducer drives the cantilever to slew. I-beam for about straight-line operation, and lifting heavy objects. Crane arm for the hollow steel structure, light weight, span a large, heavy weight, economical and durable. Built-in travel agencies, the use of special engineering plastics with rolling bearings take the wheel, small friction, light walking; structural size is small, especially conducive to improving the hook trip.
The Type of Jib Crane:
Fixed column jib crane
Wall jib crane
Gantry jib crane
Mobile jib crane
Features of Jib Crane
Cantilever crane is to adapt to the modernization of production and production of a new generation of light lifting equipment, with the high reliability of the electric chain hoist especially for short distances, the use of frequent, intensive lifting operations, with high efficiency, energy saving, saving, accounting for Small size, easy to operate and maintain.
If this is your want, please kindly advise those information as below,
1.What type Jib Crane do you need? Fixed Column Jib Crane, Wall Jib Crane, Gantry Jib Crane or Mobile Jib Crane?
2.Capacity?
3.Lifting Henght?
4.Operation: Hand or Electric?
5.The length of Arm?
6. Rotation Degree?
7.Is there any requirment for speed?
Looking forward to your reply.