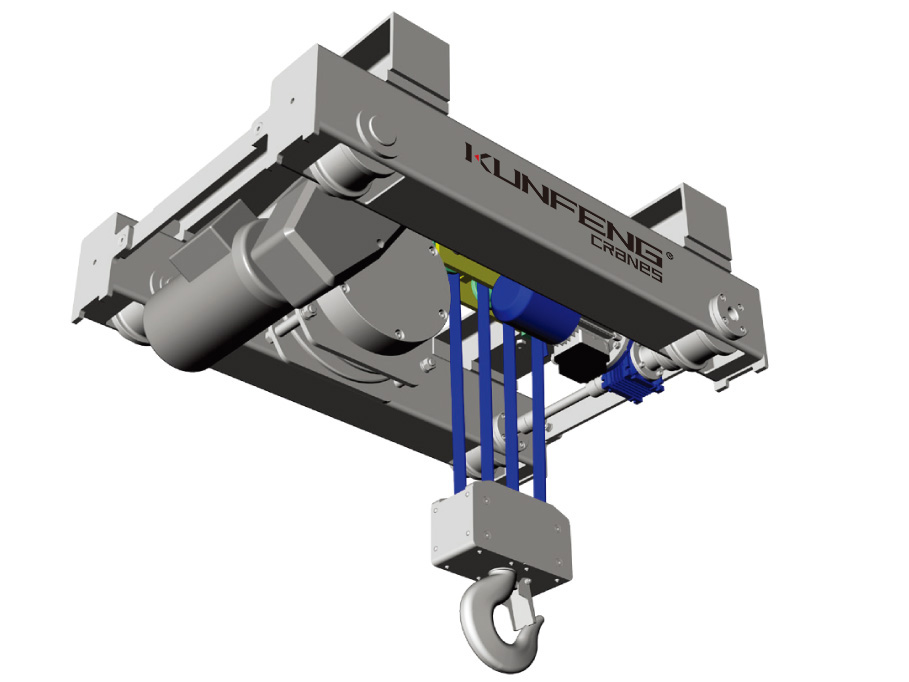 Designed for food industry, chemical industry and semiconductor industry where the fine dust-free environment is required, KUNFENG Cranes cleanroom belt hoist provide you one-stop custom service.
All stainless steel construction with fiber lifting belt allow the belt crane used safely in clean room. And the upgraded fiber belt ensures a safe lifting operation.
Further Characteristics:
• No metal-on-metal abrasion to potentially create particle contaminates
• Light and easy to stall
• Durable & clean
• Accurate and stable operation
• Customized services are available
Parameters of Cleanroom Overhead Crane with Belt Hoist

Product Model

KF06-8206DD

Standard

GB/T3811-2008

Crane Span

10.8m

Total Power

10.4 KW

Lifting Capacity

6+6 ton

Hoist Belt:

83.97 kN

Lifting Height

4.85 m

Main Voltage

380V

Lifting Speed

0.1-3.8 m/min

Frequency

50HZ

Trolley Speed

0.25-10 m/min

Work Level

A4

Control Mode

Remote control by industrial Pad

Temperature

-25℃ ~ +45℃
Belt Hoist is made of reliable belt, which is tensile and easy to clean. Our new cleanroom crane is a modern alternative to traditional models. Instead of dust proof covers, it features fiber belts that easy to clean. The belt hoist is versatile and can operate in low headroom areas with precision positioning of up to 2mm. This crane is ideal for industries such as pharmaceutical, semiconductors, electronics, and aerospace, and can handle loads from 0.5 to 20 tons.