The stainless steel track suspension crane is a kind of light lifting equipment, which is composed of a suspension device, a stainless steel track, a traveling trolley, an electric chain hoist, a mobile power supply device (sliding wire) and a control device. It can be simply hung on the roof of the factory or on the I-beam bracket to realize direct transportation of materials in the air. It is suitable for material transportation links or systems in various industries. It is usually used in food processing, pharmaceutical, chemical and other industries because stainless steel has the characteristics of corrosion resistance, hygiene and easy cleaning, and can meet the requirements of cranes in special industries.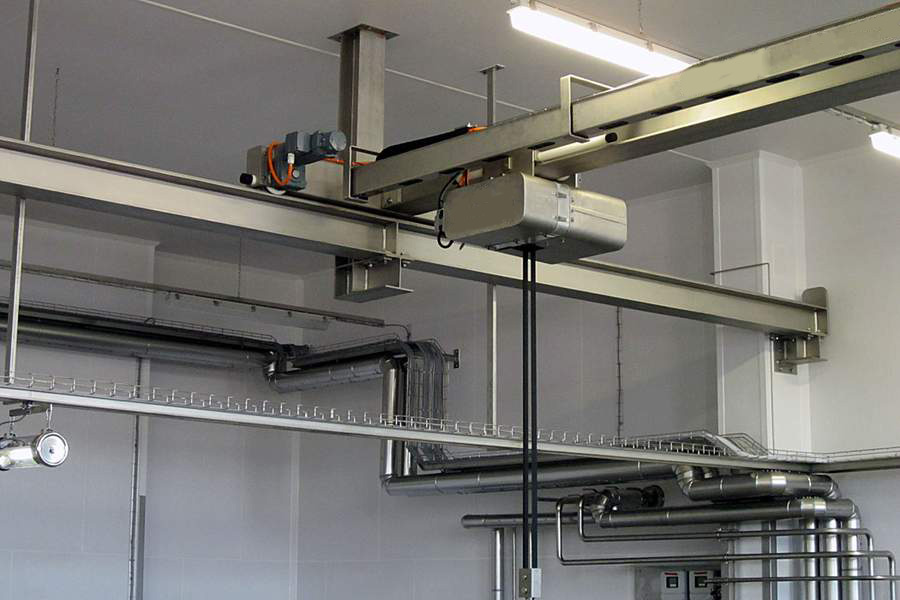 Composition structure:
● Suspension device: The stainless steel track is fixed on the roof of the factory building or the I-beam bracket. There are many forms, such as booms, hangers, hanging chains, etc.
● Stainless steel track: carries traveling trolleys and electric hoists. It has various models and spans. It is made of stainless steel and has the advantages of corrosion resistance, wear resistance, and beautiful appearance.
● Walking trolley: moves along the lower flange of the stainless steel track to drive the electric hoist to move horizontally. There are two methods: manual and electric.
● Electric hoist: To achieve the lifting of materials, a chain electric hoist is generally used. Other types of lifting devices can also be selected according to needs, such as manipulators or welding guns.
● Mobile power supply device: Provides power for traveling trolleys and electric hoists. Generally, the sliding wire method is used, but other methods can also be selected, such as cable rollers or wireless power supply.
● Control device: Controls the operation of the traveling trolley and electric hoist, and comes in many forms, such as buttons, remote controls, touch screens, etc.
Operating principle:
● Lift the material on the hook of the electric chain hoist, and then use the control device to control the lifting and lowering of the electric hoist.
● The control device is used to control the traveling trolley to run along the lower flange of the stainless steel track to move the materials to the required location.
● The control device is used to control the switching of the switches to realize the lateral switching of the stainless steel rails, so as to transport materials on different rails.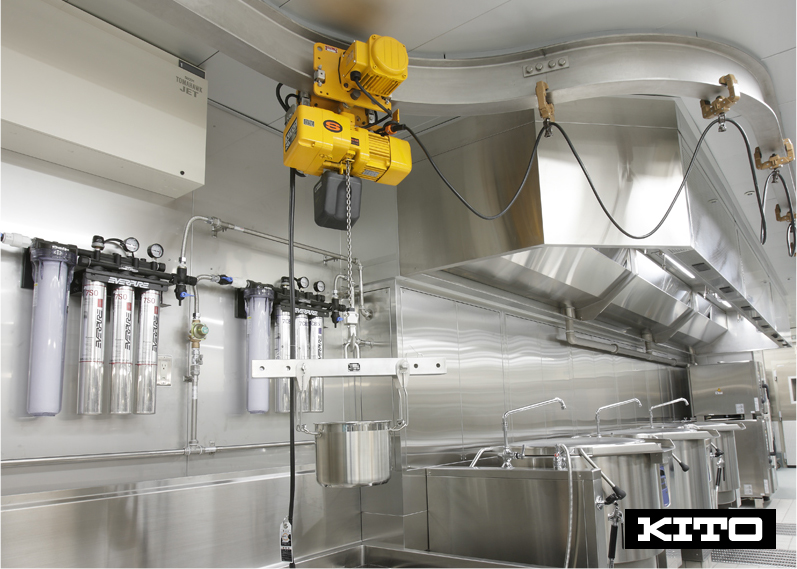 Main feature:
● Made of stainless steel, it has corrosion resistance and is suitable for special environments and industries.
● Prefabricated standard modular design makes expansion and relocation easier.
● Track suspension design allows free movement on the track and high flexibility.
● It is suitable for hanging and transporting heavy objects and can meet the lifting needs of different industries.
● It is simple to operate, safe and reliable, and improves work efficiency.