EOT Crane, also known as Electric Overhead Traveling Crane, is the most commonly found overhead crane in factories. As the name suggests, these cranes are operated electrically with the help of a control pendant, radio/IR remote pendant, or an operator cabin attached to the crane itself. Understanding the key specifications of headroom, lifting height, load capacity, and span is crucial in selecting the right overhead crane for your specific application. In this article, we will delve into these important factors and their significance in optimizing material handling operations.
The headroom of EOT crane refers to the distance measured from the saddle of the load hook when it is in its highest lift position. The headroom is typically measured to the following locations:
- Bottom of bridge girder
- Top of bridge girder
- Clear ceiling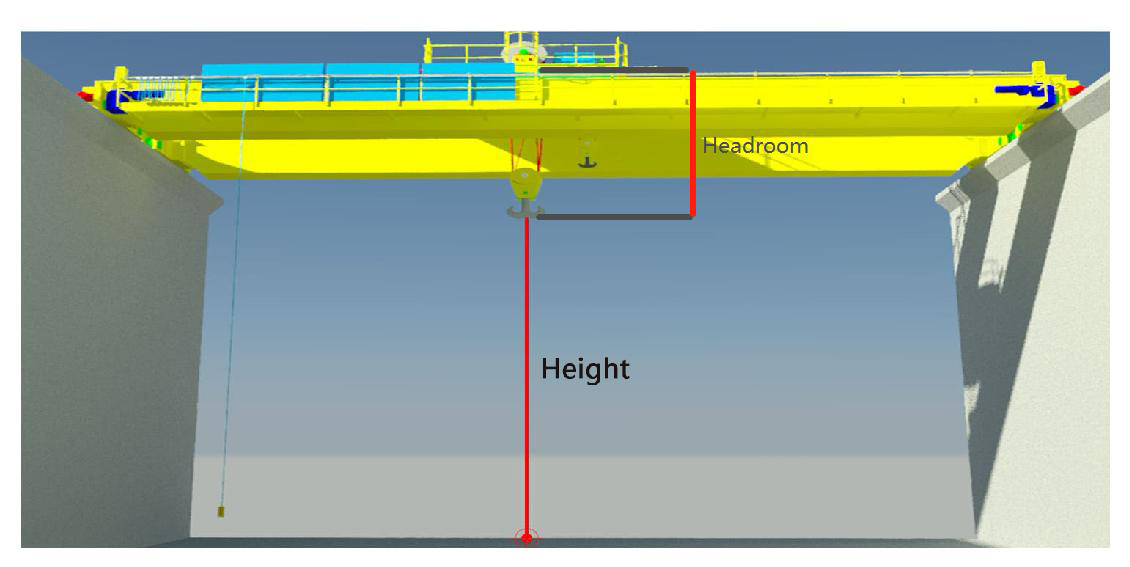 Lifting Height
Lifting height of EOT overhead crane refers to the maximum vertical distance the overhead crane can raise and lower a load. It is a vital specification, as it determines the crane's ability to reach the required elevation within the workspace. The lifting height should be carefully considered based on the specific needs of your application. Factors such as building height, storage racks, and workflow requirements must be taken into account. Selecting a crane with an adequate lifting height ensures that material handling tasks can be effectively performed, avoiding any limitations or obstructions in the workspace.
Load Capacity
Load capacity is another critical specification of an overhead crane. It refers to the maximum weight that the crane can safely lift and transport. It is imperative to accurately assess the typical loads involved in your operations to choose a crane with an appropriate load capacity. Undersizing the load capacity can lead to safety hazards and potential equipment damage, while oversizing can result in unnecessary costs. Careful consideration of the weight and dimensions of the heaviest objects being lifted is vital in determining the required load capacity of the overhead crane.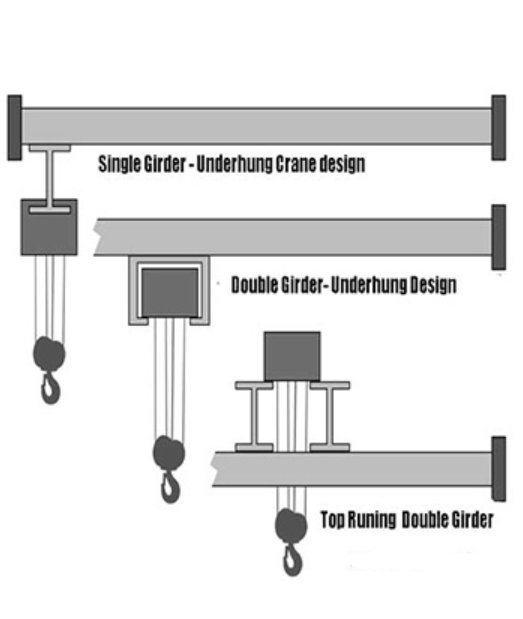 Span
The span of an overhead crane refers to the horizontal distance between the runway rails or supporting structures. This specification determines the coverage area of the crane and its ability to maneuver within the workspace. The span should align with the layout and dimensions of the facility, ensuring that the crane can reach all necessary work areas. It is essential to consider factors such as aisle widths, machinery placement, and material flow patterns when determining the appropriate span for your overhead crane. A well-matched span allows for efficient material handling operations, minimizing downtime and optimizing workflow.
Conclusion
Selecting the right overhead crane for your material handling needs requires careful consideration of headroom, lifting height, load capacity, and span. These specifications directly impact the crane's usability, efficiency, and safety. By understanding the specific requirements of your application and consulting with experts in the field, you can choose an overhead crane that maximizes productivity, streamlines operations, and ensures the safe movement of materials in your workspace.