Polyurethane rubber roller coating is a process of covering the surface of a metal or other material roller with a layer of polyurethane elastomer, which can improve the wear resistance, tear resistance, oil resistance and corrosion resistance of the roller, and extend the length of the roller. service life.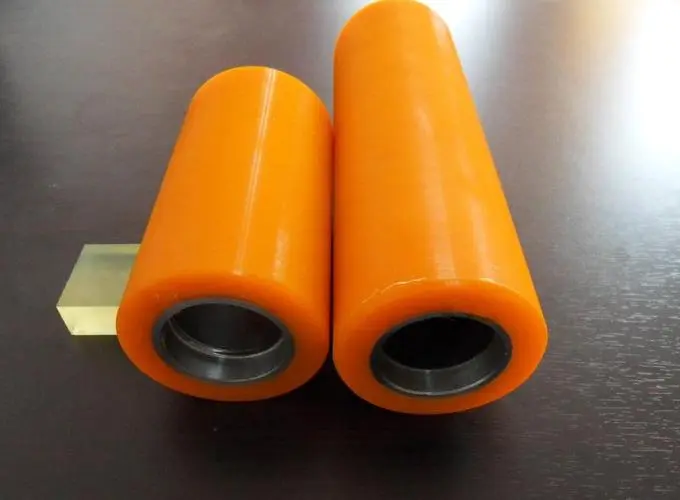 The process flow of polyurethane rubber roller coating
● Clean the roller: Remove oil, old glue or other impurities on the surface of the roller to ensure that the surface of the roller is clean, smooth and free of rust.
● Roughening treatment: Use sandpaper or grinding wheel to polish the roller surface to increase the roughness of the roller surface and improve the bonding strength with polyurethane.
● Sand blasting: Use compressed air to spray sand onto the surface of the roller to further increase the roughness and cleanliness of the roller surface.
● Gumming treatment: Mix polyurethane resin, curing agent and solvent in a certain proportion, and use a spray gun or brush to evenly apply the mixture on the surface of the roller to form a uniform glue layer.
● Vulcanization treatment: Put the rubber-coated roller into a vulcanization box and heat it to a certain temperature to solidify the polyurethane resin into an elastomer and tightly adhere to the roller.
● Processing: The vulcanized roller is processed with a lathe or grinder to make it reach the size and shape required by the customer. At the same time, the surface of the roller is polished or spray-coated to give it good appearance and performance.
Features:
● The appearance is bright, the surface is fine and smooth, and the colloid material and the mandrel are firmly bonded.
● It still has high elasticity under high hardness and is suitable for use under high linear speed and high pressure.
● It will not harden or age after long-term use, has good resilience, and has a service life that is more than 3 times that of ordinary rubber rollers.
● It has sufficient surface viscosity to ensure that the rubber roller has good ink transfer and inking performance during the printing process.