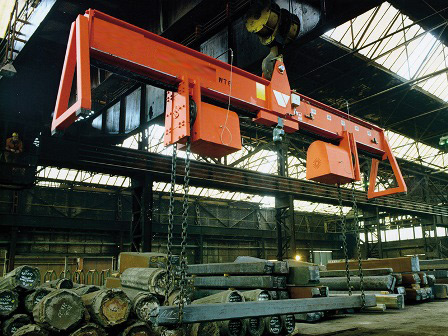 Crane girder mould load turning device
Technical field: The utility model relates to the field of welding technology for making crane main beams, in particular to the crane main beam turning over the main beam by turning the tire during the welding process, and changing the welding seam from vertical welding to flat welding.
Background technology: Now the main beam of the crane is welded - the II-shaped beam formed by spot welding is generally placed on the working platform. When welding the main beam web and the rib plate, two cranes with main and auxiliary hooks are required to lift the two main hooks. Lift both ends of the main beam, two auxiliary hooks assist in tipping, slowly lay the main beam flat from the standing state, and change the welding between the main beam web and the rib plate from vertical welding to flat welding. Such a main girder overturning method has high requirements on the synchronization of the two cranes, which not only has low work efficiency, but is also extremely unsafe during use, and has great potential safety hazards.
Therefore, the utility model is developed on the basis of mainly solving the above deficiencies in the current prior art.