Clean Room Overhead Crane
for Medical Pharmaceuticals Industry
Brief Introducion:
Serving a wide range of industries, from waste water treatment and ash handling to aerospace and shipping, our team can easily meet various industry-specific compliance and regulations.The whole complete crane structure was welded by stainless steel.
Clean Room Basics:
Products with sensitive components and production processes often require the use of hygienic rooms during the manufacturing process; these environments are kept free from dust, airborne microbes, chemical vapors, and other environmental contaminants.
Depending on the application, a specified level of contamination is set and must be adhered to.
Before the International Standards Organization (ISO) adopted standards, nearly all sanitary rooms were governed by GB5033-2002(100000 grade), which specifies cleanliness classification levels.
International standard ISO 14644-2, which is expected to eventually completely replace FS209E, describes the type and frequency of testing needed to meet certain standards and is the most common standard used today.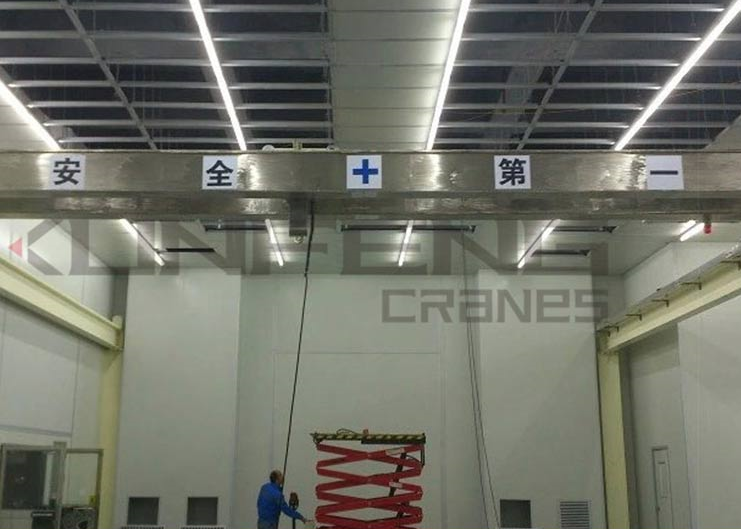 It is applied to be used in the following industries:
Aerospace
Food and beverage
Electronics
Medical technology
Pharmaceuticals
Safety Devices for overhead bridge crane:
To guarantee the normal operation of crane and avoid the personal casualty and mechanical damage, the safety device we provide are not only the electric protective devices or alarm bell but also other equipments as following:
1.Overload Limit Switch
2. Rubber Buffers
3.Electric Protective Devices
4.Emergency Stop System
5.Voltage Lower Protection Function
6. Current Overload Protection System
7. Rail Anchoring
8.Lifting Height Limit Device
Advantages of a single girder design:
1)Less expensive due to a simpler trolley design, reduced freight costs, simplified and faster installation, and less material for the
bridge and runway beams.
2)Most economical option for light to medium-duty cranes
3)Lower loads on the building structure or foundations due to a reduced deadweight. In many cases, it can be supported by existing
roof structure without the use of additional support columns.
4)Better hook approach for both trolley travel and bridge travel
5)Easier to install, service, and maintain
6)Ideal for workshops, warehouses, material yards, and manufacturing and production facilities
7)Lighter load on runway rails or beams means less wear on the beams and end truck wheels over time
8)Great for facilities with low headroom
FAQ about clean room cranes:
1.Can the cranes be customized?
Yes,every customer's working condition is different, all of our products can be customized depend on customers' requirements.
Please give us the information as clear as you can, so we can give our best design to suit for your demands.
2.How many operation methods for my selections?
We provide pendent controller with push button control type, remote control type or cabin control type.Please tell us what kind
of operation way you need.
3.I have low headroom in my workshop, is it possible to install a crane in it?
We have special products for low headroom workshop, our engineer can give the best design according to your dimensions.
4.Do you supply lift tools?
Yes, we can provide any kind of lifting tools such as hook, electromagnetic, grab bucket etc...
5.In order to offer the most suitable design solution for you, it will be great helpful if you can offer us the following information to us:
1. What is the lifting capacity?
2. Span length.(rail center to rail center)?
3. Lifting height.(hook center to ground)?
4. Have you installed the rails? Do you need us to supply the rails? How long is it?
5. Power supply: Voltage/phase/hz?
6. Working condition: what kind of material to lift? temperature?
7. It would be much better if it is possible for you to offer the drawing photo of your workshop.