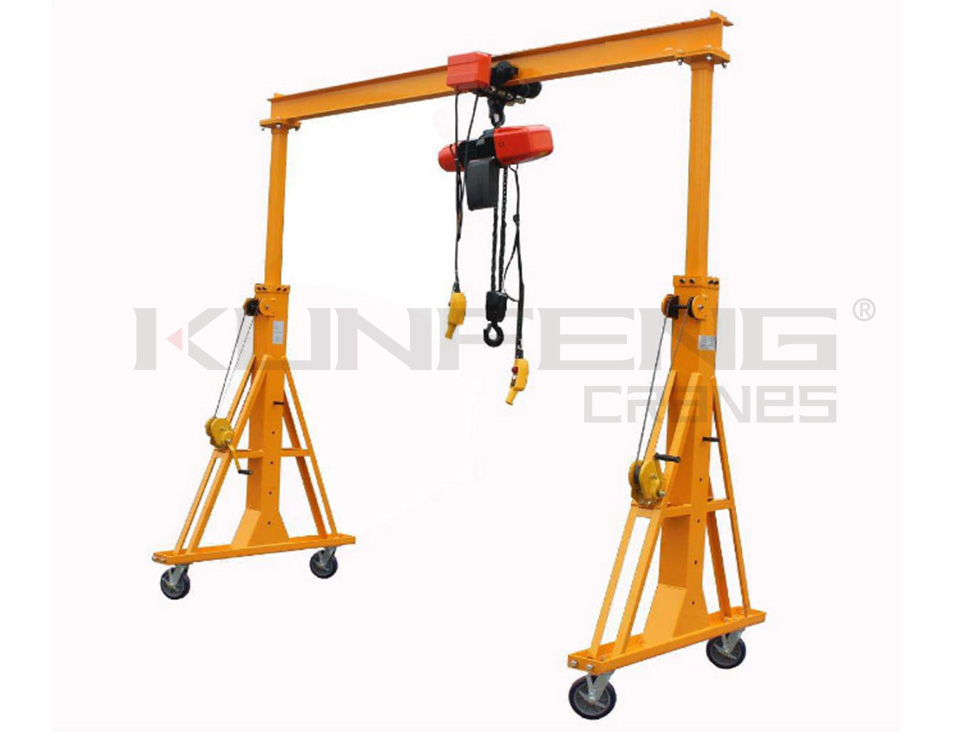 What is a gantry crane?
Gantry cranes
are a type of overhead crane that is built on a gantry
A gantry is a movable framework that supports large equipment. Some of the common things it supports are railroad signals, rockets, and cranes!
Putting two and two together, a crane on a gantry is a gantry crane.
Gantry cranes come in a range of sizes – from something that fits in your garage to something that could lift your garage, house, and everything in it.
The really big gantry cranes are most commonly seen at shipping and container yards, rail yards, and places where they form big concrete slabs.
The smaller gantry cranes are much more common for garage use and smaller fabrication shops.
The smaller gantry cranes are typically on heavy duty casters so they can be easily moved around. This makes them extremely versatile and mobile.
If you've got a need for a mobile overhead crane system, and don't plan on moving more than a few tons then the smaller mobile gantry cranes are an excellent choice.
If you have a need for an outside overhead crane that needs to move many tons and would be fine on a track system, then a larger gantry crane might suit your needs
The best part about the smaller gantry cranes is that they are fairly inexpensive.
For around four thousand dollars, you can get a gantry crane that will move several thousand pounds.
This really makes them a viable option for home mechanics and hobbyists that have a lot of weight to move or hold.
The larger gantry cranes can get much more expensive.
The biggest gantry crane in the world, the Taisun Crane, has an estimated build cost of around $40 million dollars. But if you need to lift a barge one hundred feet above water then you can't beat that price.