As a powerful lifting equipment, hoist is used in various industries for lifting and lowering objects, as manufacturing, construction, automotive and so on.
What types does crane hoist can be divided into?
According to the supplied power, there are a few of different types of hoist in our Website: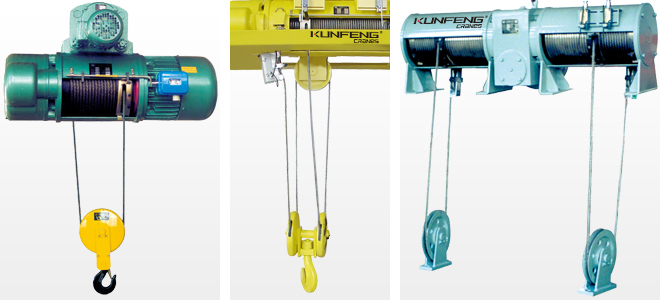 Electric Chain Hoist
Electric Wire Rope Hoist
Electric Belt Hoist
Apart from these categories, there are more specific hoist, as clean room hoist, low headroom hoist, and under-slang/top-running hoist, etc.
What are Hoists used for?
1. Manufacturing
Hoists are necessary to shuttle around the raw materials of the manufacturing process.

2. Oil Extraction
Oil extraction drils are massive and weigh several tons, therefore, the lifting capacities of hoists must
be large and the electric-powered and heavy duty wire rope hoist are recommended.

3. Mining
Hoists are the most common lifting equipment in mining industry. Compact and spark resistant features make it safe in mining.
Usually, the explosive-proof pneumatic hoist and spark-resistant electric chain hoist are best for environment with flammable and explosive gas.

4. Food Processing
For contaminant-controlled environments requiring overhead lifting equipment, such as in the foodservice or food production industries, clean room hoist can offer you a efficient and safe production while maintaining your hygienic environment.

5. Construction
The most common use of hoists is in the field of construcion. Coordinated with trolley, hanging on a gantry crane or overhead crane, hoist will have adjustable movement and wide application indoor and outdoors.
Moreover, KUNFENG® also supply load turning device, clean room crane, overhead crane, gantry crane, intelligent crane, and wheel blocks, etc.