One or multiple cranes. A lifting capacity of fifty kilos or well over twenty tons. Powered electrical or manual. The possibilities are endless, but our cranes all have one thing in common: they lift your product precisely. Want to know how? Then read on.
Precise lifting isn't just about a good quality crane, though that is important too. At Cleanroom Cranes, we offer tailormade solutions that will help you find the perfect crane for your cleanroom. These solutions include techniques that allow the crane to lift your load as precisely as possible.
Automatic balancing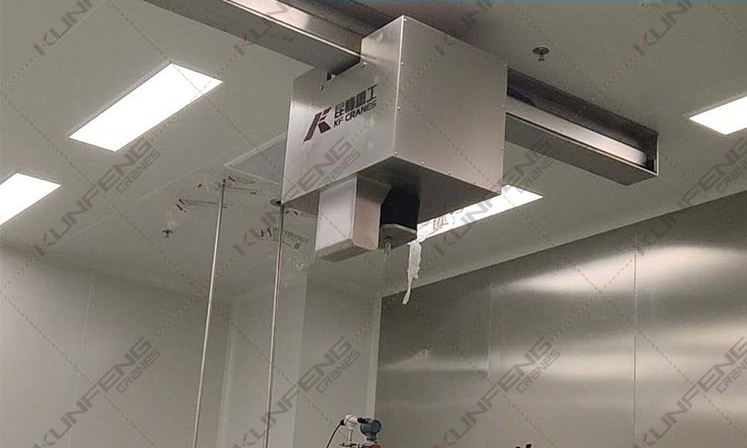 A very useful technique that's mainly used in the high-tech industry. Imagine you have to lift a load at several points at once. This must happen with extreme precision. When the load on all the hooks is equal, the hooks will lift the load synchronously. And that's where automatic balancing comes in. By using sensors and measuring points, a load can be aligned precisely against the lifting eyes. This is up to 1mRAD/m accurate! Which is equal to a one-millimetre height difference in a meter.
Apply preload
A handy technique for products sensitive to shock. Imagine: your product weighs ten thousand kilos. Before you start lifting, you tension the webbing sling chain until 9900 kilos, while the product is still stable on the ground. If all points are equally tensioned, you start lifting with restrain. Meaning: slowly. Because without restrain, the product and crane will receive an enormous shock that could be fatal for both.
Coordinated positioning
You want to lift and lower your load at an exact point. If this is predetermined, you can incorporate software into your crane system. By upgrading your system to function semi-automatically, you can very precisely lift and lower your product. This is especially useful for industries where no living being can enter, for example when storing nuclear waste.