Non-standard automatic assembly line 90-degree turning machine
is widely used in metallurgy, steel belt, wire reel, stamping, sheet metal, mold, papermaking, cold storage, barrel material, coil material and other industries to turn goods, such as common vertical turning, horizontal turning Wait now. The above-mentioned goods are not suitable for manual overturning due to their heavy weight.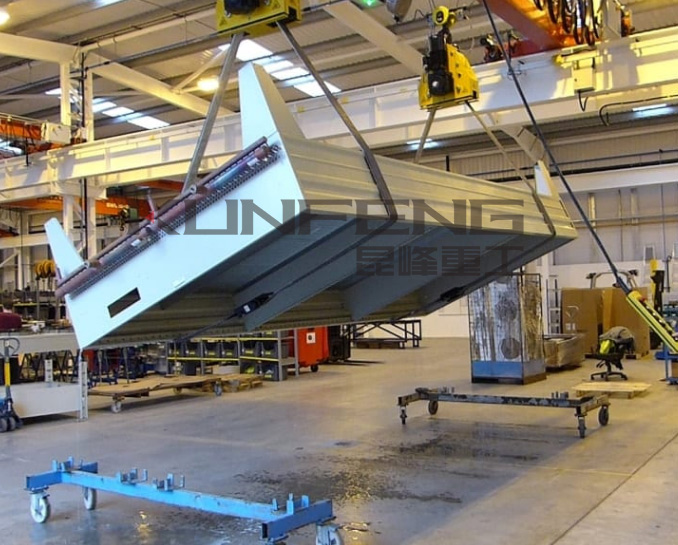 If the original manual method is used to turn over, there are many disadvantages: First, due to the inertia of heavy objects during the turning process, the direction of the goods is difficult to control, and accidental danger may occur, causing the goods to roll over during the turning process. Thereby causing damage to the goods; second, it may cause personal safety issues for the operators; third, it may damage the lifting equipment. If the 90-degree industrial turning machine is used, the related risks can be avoided, so that the goods can be turned safely and stably.
The turning machine is composed of two themes, a base and a turning body. When in use, fix the base of the turning machine on a level ground, use cranes, forklifts and other moving tools to put the goods on the turning body, start the switch, the turning body is driven by the motor to make a 90-degree turn, and is equipped with a deceleration The machine controls the turning speed to ensure the safety and stability of the goods. After the turning operation is completed, the goods can be taken away by a forklift or the like. It is also possible to connect the turning machine with the winding packaging machine, shearing machine, conveying line and other equipment to form an assembly line operation, eliminating the inconvenience of loading and unloading. The 90-degree turning machine has simple operation, high work efficiency, safety and reliability.