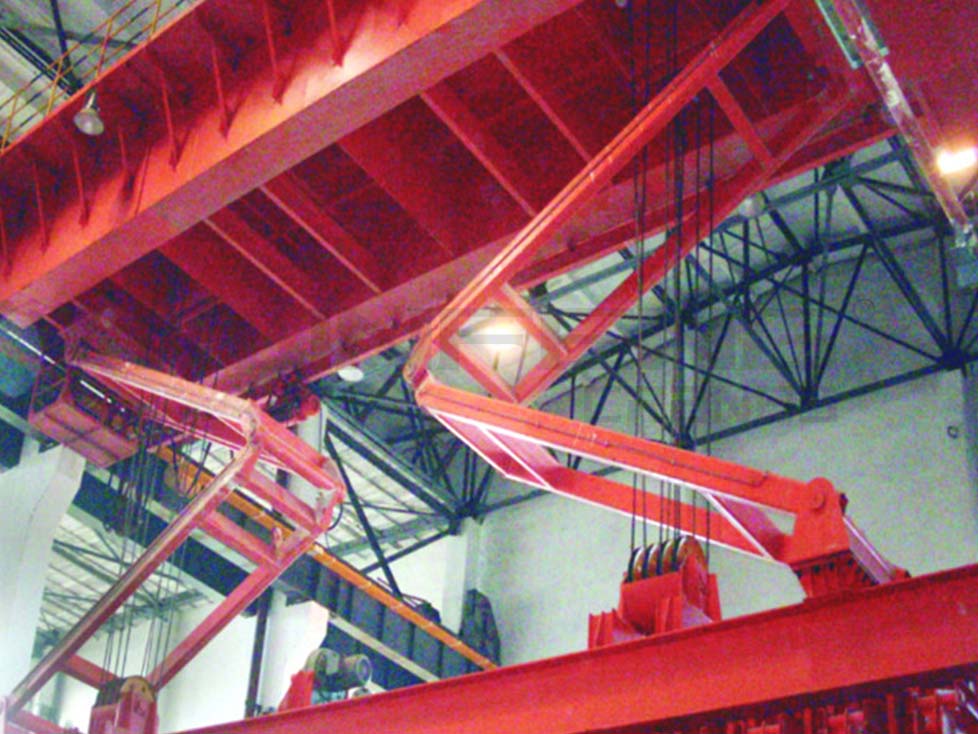 Anode carbon baking crane is a special equipment for extracting, separating, dedusting and backfilling the filling materials in the roasting furnace and transporting the anode between the roasting furnace and the compilation and disassembly station.
Anode carbon baking crane uses a special tool trolley, which is not exactly the same as that of the traditional metallurgical bridge crane, but the operating mechanism and bridge of the operating crane are basically different from other metallurgical bridge cranes.
Anode carbon bagging crane is mainly composed of crane, trolley, main material bin, cyclone dust collector, cooler, large bag dust collector, small bag dust collector, suction pipe, discharge pipe, vacuum pump, clamping system and electrical system.
The main features of anode carbon baking crane are as follows:
1. The main material bin adopts a metering sensor, which automatically stops sucking when the bin is full.
2. The lower part of the material suction pipe is provided with a return air wear-resistant material suction port, which has fast material suction speed and allows the absorption of furnace materials below 400 ℃, which greatly improves the service efficiency of the roasting furnace.
3. The discharge pipe is equipped with a discharge dust suction device. During discharge, the dust is sucked into the bag dust collector with a small negative pressure (a separate small bag dust collector is specially set). There is no dust, and the gas emission meets the national environmental protection requirements, which greatly improves the working environment.
4. The vibration dust falling device of dust collector is adopted to effectively remove the dust on the cloth bag and increase the service life of the cloth bag.
5. The cooler adopts three circuit pipeline and is cooled by strong pressure fan to effectively reduce the temperature of dusty gas.
6. The anode clamp is a mechanical self weight clamp, which generates clamping force by relying on the weight of the anode itself, which is safe and reliable.
7. The safety factor of clamp clamping force shall be greater than 1.5 to ensure the reliability of clamp clamping anode.
8. The clamping arm of the fixture adopts an adjustable structure. According to the different sizes and specifications of carbon blocks, adjust the installation position of the clamping arm to adjust the opening size of the fixture.
9. All actions are completed automatically by PLC.