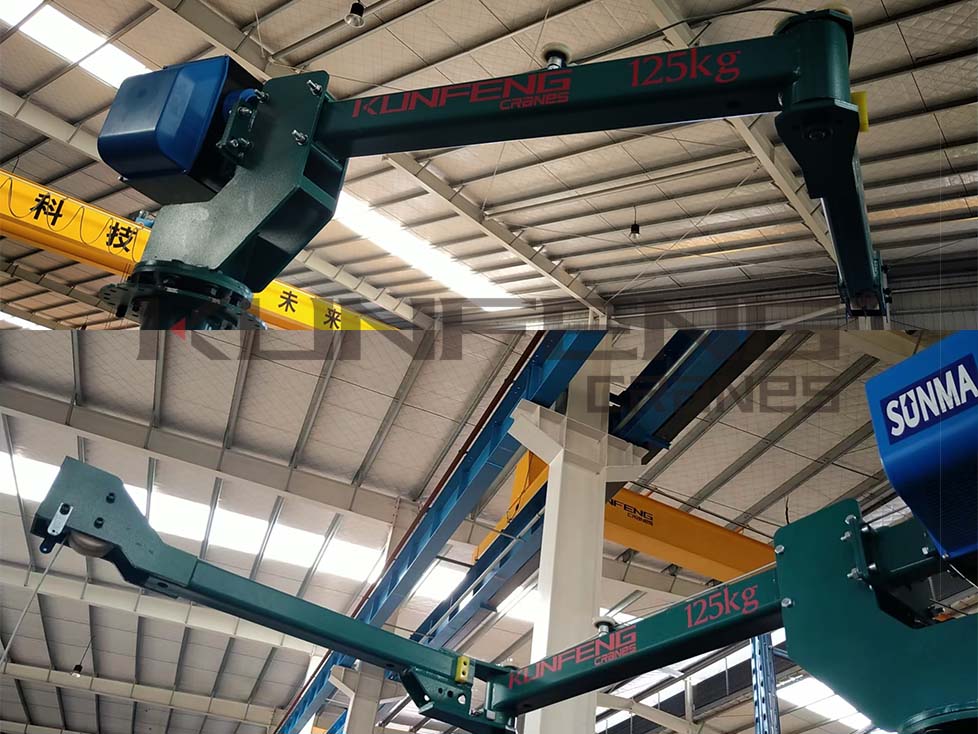 Jib Crane Design and Components
For the most part, jib systems have a very basic design and construction. Compared to workstation cranes and bridge or gantry cranes, they're simple to operate, and require less maintenance because they have less parts that could potentially breakdown or fail.
Below are some of the components and terms you'll see mentioned throughout this article:
Reach/Boom – the horizontal beam that the trolley travels back and forth on.
Mast/Pillar – the vertical beam used to support the boom on freestanding and mast systems
Movable Hoist – the hoist is used to lift, position, and lower a load.
Trolley – the motion of the trolley can be manual, motorized, or pneumatic. The trolley carries the hoist, wire rope or chain, and the hook along the entire length of the boom.
Rotation – on free standing and mast type jib cranes, you can achieve 360° of boom rotation. On wall and column-mounted jib cranes, you can achieve 180-200° of rotation.
Electrification/Pneumatic Power – electric collector rings or pneumatic air lines can be added to the top or bottom of the mast to provide rotation assistance and allow for continuous 360° boom rotation.
Controls – on motorized or air-powered jib systems, you can use a push button controller to control the rotation of the boom, as well as the motion of the trolley and the lifting and lowering motion of the hoist. Multi-speed or variable speed controls are available for the hoist and trolley.
Hook Height – How high can you or do you want to go with your lifts? You'll need to know the lowest overhead obstruction to know how tall your jib crane can be.
Rotation Stop – if the crane is located close to a wall or other obstruction, a rotation stop will limit the crane's motion before it collides with a nearby object.
Environmental Considerations – the components of the jib system can be galvanized to resist corrosion for outdoor applications. Also, special control enclosures can be designed for explosion proof applications, and other environments where heat, dust and dirt, or moisture may be a factor.