The fully automatic crane
is a lifting equipment integrating automatic detection, identification, handling, path planning, remote control, automatic avoidance fault detection, voice control and other functions to provide users with multi-working conditions and multi-application solutions.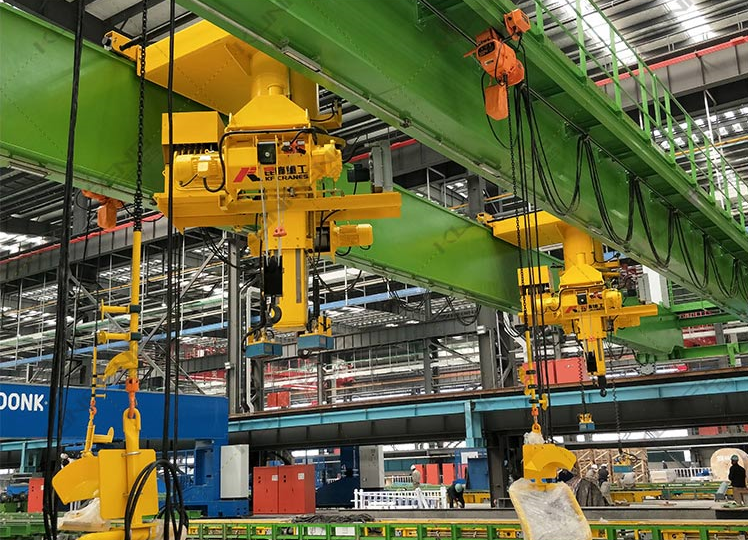 Main performance characteristics
①It has functions such as anti-sway, precise positioning, and automatic avoidance.
②The shape, position, center of gravity and other data of the measured object can be identified by scanning.
③The DFMES industrial management system with intellectual property rights is an intelligent enterprise management software that integrates order processing, automatic production scheduling, quality control, and automatic warehouse storage.
④It has visual recognition and voice control functions to realize human-computer interaction.
Kunfeng Heavy Industry provides non-standard customization of fully automatic cranes. A variety of fully automatic lifting solutions can greatly reduce user plant construction costs: compact design, best headroom and side limit dimensions, short working cycle (PLC-driven fully automatic and semi-automatic cranes), which can effectively help customers reduce capital branch
To increase productivity. No matter what kind of process it is applied to, we can help customers improve efficiency.
●Safe and reliable, to prevent personal injury and death accidents
●Improve work efficiency and equipment availability, increase the total work volume and reduce maintenance workload
●Integration of lifting system and production process
●Improve the flexibility of production and the ability to respond quickly to provide strong support for real-time strategic decision-making
Applicable fields;
Through automation, the monotonous and repetitive promotion and positioning of the responsibility cycle, the continuous stacking and storage process can be managed mechanically, which significantly reduces the risk of accidents while improving accuracy and efficiency.