1 ton European-style crane manufacturer, European-style wire rope hoist crane is a medium and high-end bridge gantry crane. There is no concept of European-style crane in technical terms. It is a summary of domestic crane users. Domestic cranes (derived from Soviet design and manufacturing technology) are reliable and versatile. Good performance, low price, combined with advanced European crane advanced technology, compact structure, light weight, energy saving, low noise and other characteristics!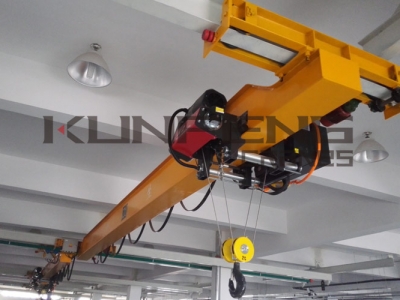 European-style cranes are based on European lightweight and modular design concepts and advanced manufacturing processes, making the entire crane compact in structure, stable in operation, reduced in weight, reduced in height, energy-saving and consumption-reduced, greatly reducing users' construction costs for crane operation workshops and cranes Operating costs, Kunshan 1-ton European-style crane improves the quality and operation performance of the crane. The European crane anti-sway control system can reduce the load swing of the crane by more than 90%, greatly improve the production efficiency of the crane in the material handling industry, improve the safety of the crane in use, and effectively reduce the risk of cargo damage and personal injury. .
Kunfeng Heavy Industry is committed to the production and sales of European-style cranes, non-standard customization of European-style cranes, European-style cranes, and European-style wire rope hoists! The European-style wire rope hoist crane European-style traveling structure and mechanism cannot be fully utilized, the material waste is very serious, the processing and manufacturing are complex, the assembly precision is low, the structural deformation is serious, and the weight of the trolley is heavier, which indirectly increases the structural weight of the main beam. Kunshan 1 ton European-style hoisting mechanism is driven by a separate YZR winding motor through a half-tooth coupling, a floating shaft, a brake, a horizontal reducer with a soft tooth surface (or a reducer with a medium hard tooth surface) barrel group. The European crane reel is wound into the movable pulley of the hook group through the wire rope, passed up to the fixed pulley of the fixed pulley group, and then wound down to the movable pulley of the hook group (the number of times of up and down is determined according to the magnification), and the reel is wound back to form one by one. A winding closed loop!
Consult our non-standard customized European-style wire rope hoist crane, and the European-style crane factory will solve the material lifting problem for you.