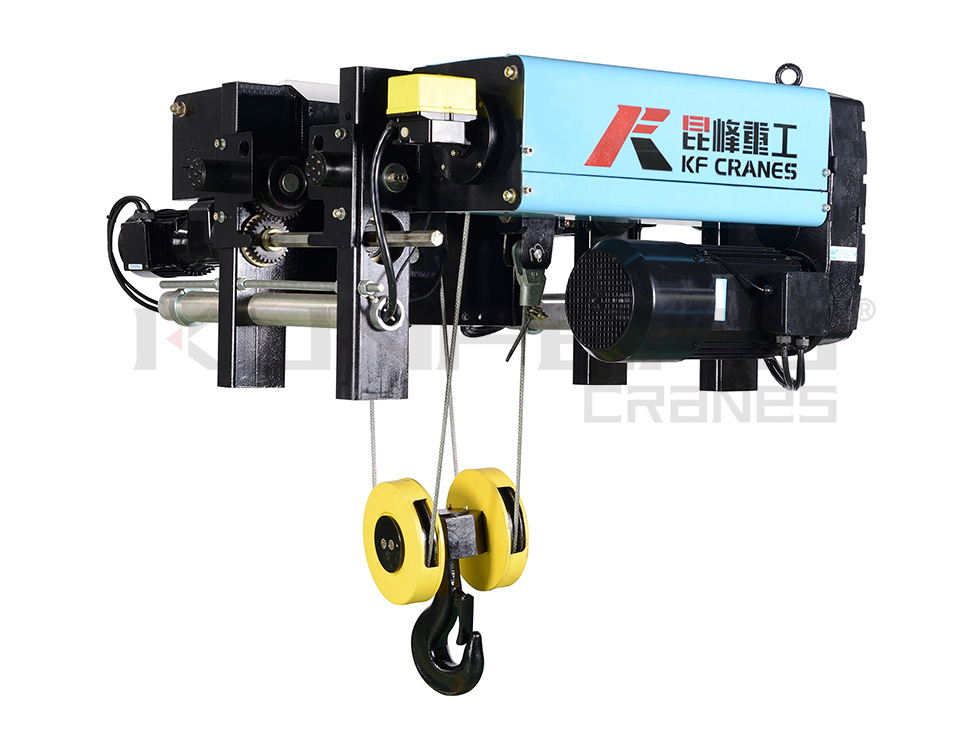 KF wire rope hoists possess features of compact and light shape, spare parts with high precision, high performance and security, smooth operation, low noise and repair rate, etc. They are in conjunction with overhead beam, single girder crane, double girder crane, cantilever crane and gantry crane, and are widely applied in outdoor and indoor sites, such as machine-processing, assembly line, workshop, warehouse, ports and station, etc, for goods loading and unloading.
Shell: Light aluminum alloy shell shall be adopted which is light but hard and fit for the use in the terrible work environment with a high heat dissipation rate and all tightness design.
Side magnetic braking device:The magnetic force generator is the latest design which is featured for generating magnetic force. It allows instant brake as soon as the electric power is cut off.Thus the braking safety while loading is guaranteed.
Antiphase protector: It is the special electrical installation which controls the circuit not to work in case of wiring error in the power supply.
Hooks:It is made by hot forging and heat treatment with perfect strength that is hard to break. The operation safety of the lower hook is ensured by its 360 degrees rotation and safety tongue piece.
Chain:The chain adopts the imported FEC80 ultra heat treatable steel alloy chain, or exclusively customized in China, which is safely whenused in the rain water,the sea water,etc.
Electromagnetic contactor:It can be used safely under high frequency.
Limit switch:It is installed where the weight is lifted on and off to make the motor to stop automatically so as to prohibit the chains from exceeding for safety
24V/36V /48V device:It is used to prohibit unexpected accident caused by electric leakage and guarantees the safe use while raining.
Push button:Waterproof push button is applied.It is light but durable.
Chain bag:It shall be light, handsome and durable
ISO:M4 /FEM: 1AM (M5 customized available)
Insulation grade: F
Protection class:IP54/65
Noise: 81dB